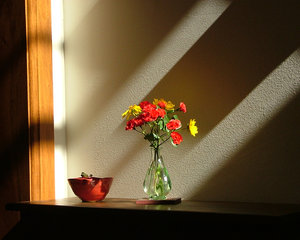 Bits of light, through window and creaks
claim their way
to flirt with flowers dry.
The solitary bud
unfortunate to exist, laments
'Don't tease me dear,
as did with friends here near,
lest I shall die
with hopes go dry.
Are you the same
that embraced this vase
giving vigour and life;
My friends
full of color, humming tunes
cosy to bees and butterflies.
Now they exist, as things of the Past
a waste in the Present,
with dust saddled upon them.
I see particles lift,
through your golden apparel
light they seem
but burden my memories
and the by-gone lives
as dust falls upon dust...
(1999)